PROTESTORS, HEAVY POLICE PRESENCE MARK GRAND JURY PROCEEDINGS
Two taken into custody after refusing
to testify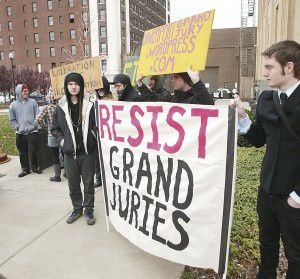 Two people who refused to testify before a Davenport federal grand jury — after they were granted immunity — are now in custody.
Carrie Feldman, 20, and Scott DeMuth, 22, both from the Twin Cities, are to be held until they testify, U.S. District Judge John Jarvey ruled Tuesday. Their confinement can be for the term of the grand jury — which they believe has 11 months remaining — or until the end of this proceeding, federal code says. The longest they can be held is 18 months.
About 40 people from across the Midwest traveled to support Feldman and DeMuth, who spoke at a rally outside the courthouse in downtown Davenport before their appearance. The protesters were met by a heavy police presence, which continued throughout the morning.
The two believe the grand jury is investigating an Animal Liberation Front, or ALF, action at the University of Iowa in 2004 that caused hundreds of thousands of dollars in damage. University officials are now building a new animal research facility underground, citing security concerns. The action was designated as a domestic act of terrorism.
Feldman and DeMuth deny involvement. Instead, they believe grand juries are used to silence dissent. They criticized the fact that people who are
subpoenaed to testify before grand juries are not allowed to have a lawyer present in the room with them. A judge does not preside at grand jury sessions, either.
"This decision about whether we cooperate or resist is the one thing that we as individuals have control over in this process," DeMuth said at the rally. "When we as individuals with the strength of our communities ... choose to resist, we disempower this tactic."
DeMuth and Feldman have been involved in support of people convicted in connection with Earth Liberation Front, or ELF, and ALF actions, DeMuth has said. "It would not be a far stretch to assume that these subpoenas are being used as a fishing expedition for information and as a punitive action against the beliefs we hold and the legal work that we do."
Feldman told protesters that an offer of immunity would not change her mind.
"I stand here today in solidarity with everyone who has stood up to resist the exploitation of the environment and animals, the repression of the state and the abuses of the justice system," she said before she went inside the courthouse.
Grand jury hearings are held in secret. However, the civil contempt hearing held Tuesday was open to the public. The courtroom was packed with protesters and federal authorities.
Once the two refused to testify, prosecutor Cliff Cronk offered both a specific type of immunity that would not allow authorities to use their statements against them in criminal proceedings, except for charges of perjury or making false statements. Immunity such as that can be offered only with permission of the U.S. Attorney General's office. It removes the ability for a person to decline to testify based on a Fifth Amendment right against self-incrimination.
The two continued to decline to testify. Cronk then asked they be held in civil contempt.
Jim Feldman, Carrie Feldman's dad, testified at the hearing that his daughter cares for her ailing grandmother and is needed at home. He also testified that she is an anarchist.
Although the subject of the grand jury investigation was not revealed, Cronk did ask Jim Feldman to identify his daughter in a photograph. He did so. Carrie had on a T-shirt with the letters "LF" visible — the last two letters of the acronym for ALF or the ELF, Cronk said.
Cronk also asked Jim Feldman where Carrie Feldman got her pet white rats. He testified that she got them from the humane society and from a friend.
Terry McAtee, Carrie Feldman's attorney, told the judge that Feldman has "deeply held beliefs that grand juries are being misused" and that she is remaining true to those beliefs despite the power of the federal government.
Cronk countered: "Her conduct is contemptuous."
During DeMuth's hearing, attorney Barbara Nimis told Jarvey that DeMuth is a graduate student at the University of Minnesota. Nimis cited DeMuth's beliefs, as well as the effect participating in a secret grand jury investigation could have on confidentiality agreements in his academic research, as the reason he declined to testify.
Jarvey declined the reasoning and ordered DeMuth into immediate custody as well.
Natalia Shulkin of Earth Warriors Are OK! said some of the people who traveled to support Feldman and DeMuth are planning to remain in the area to assist them as they begin their time behind bars.
"We believe a great injustice has been done," said Shulkin, who said Feldman and DeMuth are standing by their beliefs and will be supported in doing so.
Jim Feldman said he had mixed emotions after his daughter was taken into custody.
"It's losing your kid," he said. "But I'm really proud of her."
source:
http://www.qctimes.com/news/local/article_efe6ca22-d388-11de-a0eb-001cc4c03286.html?elr=KArks:DCiUHc3E7_V_nDaycUiacyKUUr